Marina Wittemann is a Russian painter who has exhibited nationally, as well as in China and Brazil. Her works have also been featured in Vogue online. Today, Marina Wittemann talks to Singulart about her career as an artist:
When did you know you wanted to be an artist?
In my younger years, I was drawing, sketching and making art objects all the time. I felt naturally attracted to all kinds of creative processes. However, it wasn't my dream to be an artist at that point.
At school, I wanted to become an interior designer but my parents didn't allow me. It was not a proper profession at that time. So I finished six years of a law degree and worked ten years in the automotive business as a financial manager.
While my career was growing, I realized that only your real passion can bring true happiness and satisfaction. At the age of 29, I changed my life in a day. I started my education in art. Making art became my reason and explanation of everything – I think this is the highest point that a person can reach in life.

What would you be doing if you weren't an artist?
There is no chance I would be doing something else… and I already tried. Nature of each person always come out. My nature is art.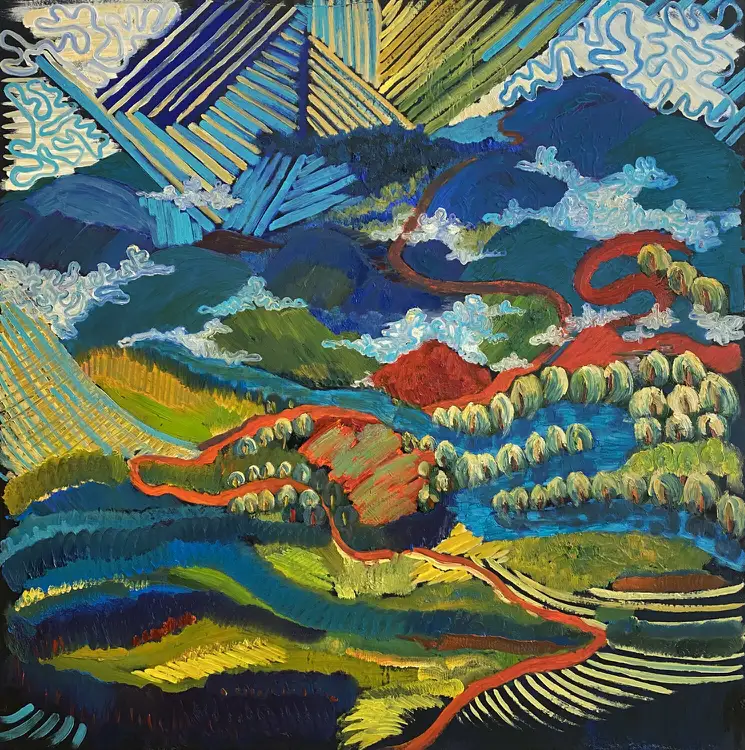 Which artists inspire you the most?
There are so many artists who inspire me and I've learnt from each of them so many things:
• Kazimir Malevich – How to highlight the main subject and remove all that is unnecessary
• Pablo Picasso – How to change and transform
• Wassily Kandinsky – How to be true to yourself and listen to your inner voice
• Joan Mitchell – How to show emotions in abstraction
• Cy Twombly – How to search and build the composition in abstract artwork
• Franz Kline – How to portrait love in a painting
• Morita Shiryū – How to show the beauty of a single line
• David Hockney – How to be academic and modern at the same time
• Petra Cortright – How to create digital art
• Tracey Emin – How to be a provocateur in art
• Jenny Saville – How to be a mother and a professional
• Albert Oehlen – How to build 3D volume in abstract work
• Matthew Stone – How to use old material in a new way
• Katja Novitskova – How to build a theory for your work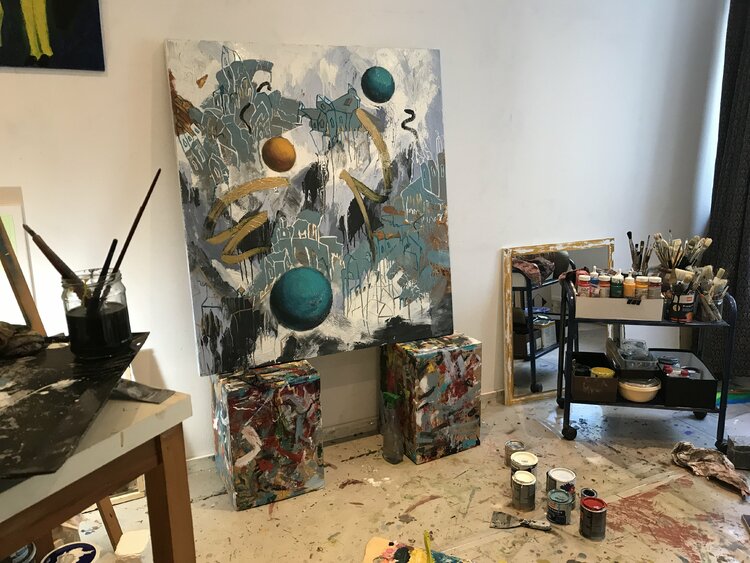 Have you found any other artists on Singulart whose work you admire?
Yes of course! I find the work of Pava Wülfert delightful, and he is also working with circles. Or Sarah Schneider – I like her style; extremely thoughtful works and deep understanding of colour. Robert Steng – he creates amazing works. One can learn from him how to work with a positive and negative space or to get a different perspective of the space.
Also Prof. Gerhard Silber, Harold Westerink, Orrite and many more.
Can you tell us about a project you're currently working on?
I'm getting deeper in the subject of new technologies and its influence on our life. I try to explore the topic in all kinds of materials creating sculptures, paintings, installations.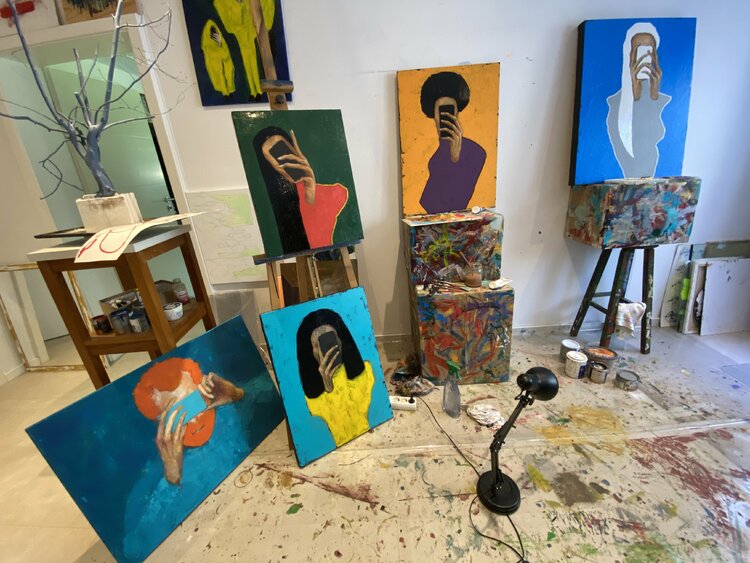 For example, in the series of works "Mensch" (Man), I draw attention to the fact that modern technologies have united us and brought us together, but at the same time we are alone, separated by distance, deprived of tactile contact. As a result, our physical sensation has changed. Embraces usually stimulate the production of hormones that help fight infections and strengthen immunity. But now, often we touch not our mother or loved ones, but a smartphone. What hormones are being produced now?
For more artworks of Marina Wittemann, visit her Singulart page here.