Slowly yet surely, the second half of the year has seen a return of the celebration of creativity with a global resurrection of art fairs. When it comes to showcasing the works of contemporary African artists, the month of October has already seen the opening of two major events, the 2nd edition of the International Biennial of Sculpture of Ouagadougou (Biso) in Burkina Faso and the London based 1-54 Contemporary African Art Fair.
Imminently launching its 6th edition in Paris is Also Known As Africa (AKAA), France's first contemporary art and design fair centered around Africa. This year's cultural program, titled Against the flow of time, inspired by Senegalese poet, Birago Diop's, memoir Présence Africaine, reflects on time and its effect on society, above all in the aftermath of Covid-19, a period for many in which time stood still.
To celebrate the work of African artists, SINGULART is holding its own African Art Auction, showcasing our internationally acclaimed artists, many of whom have themselves exhibited at these notable art fairs. Read on to discover the works of Senegalese painters Mbaye Babacar Diouf and Amadou Camara Gueye, and Congolese photographer Baudouin Mouanda.
Mbaye Babacar Diouf
Mbaye Babacar Diouf is one of the most noticed young Senegalese artists of his generation, having exhibited and been awarded prizes for his paintings on both a national and international level. His graphic works are almost hieroglyphic in their use of symbolism to examine the human condition. Central themes in his oeuvres include notions of memory, identity, and mysticism, which he explores with a spontaneous, unconscious style.
Speaking about his painting ASPIRATION, Mbaye states, "we all aspire to a balance, an ideal of life, success or accomplishment. This hope animates us and justifies our human and superhuman efforts." Humanity's astonishing sheer force of will is captured by Mbaye's depiction of individual forms breaking out of monotonous chains of existence into a beautiful free-floating chaos, slowly drifting towards the obliviating light.
Baudouin Mouanda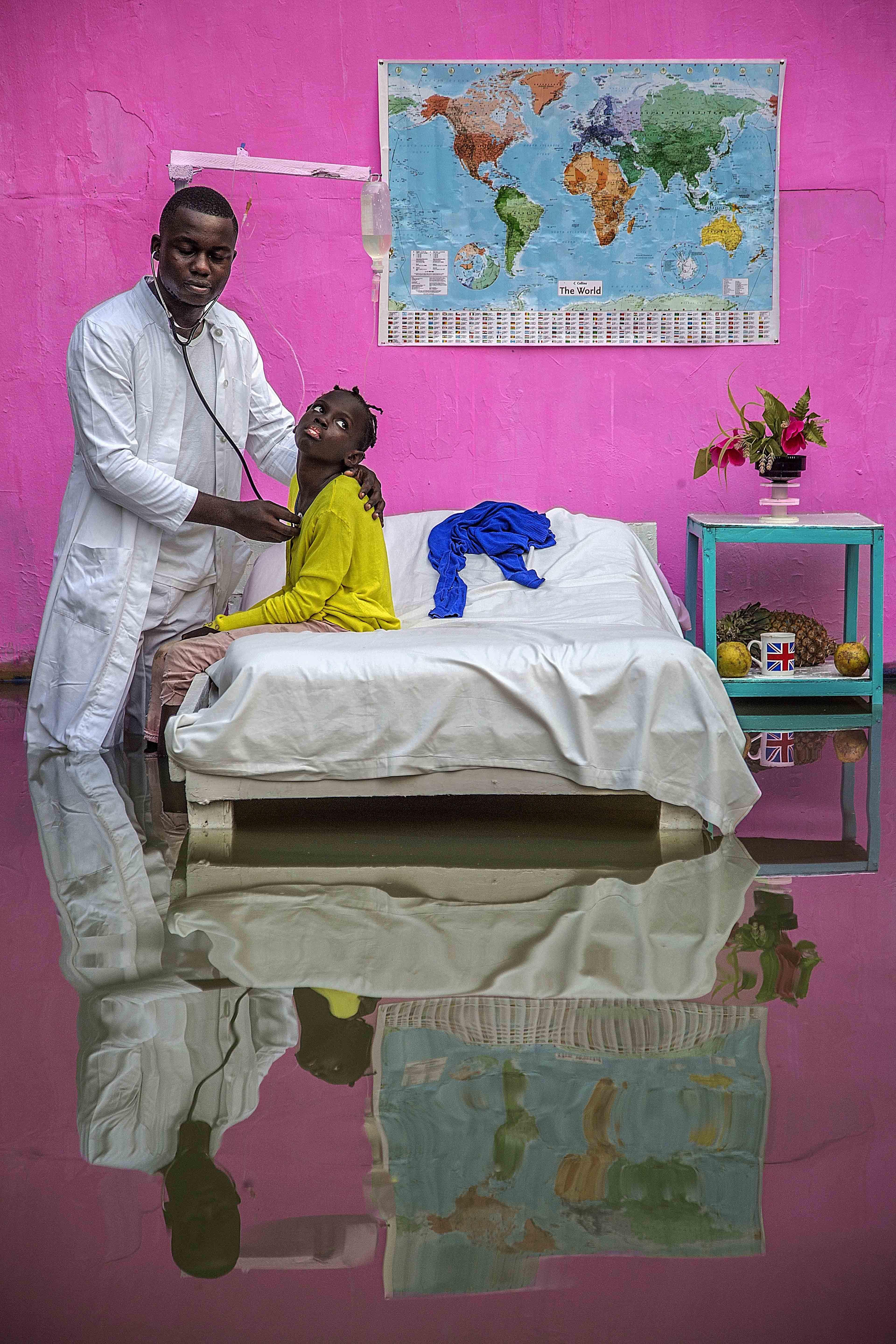 Another prominent and highly awarded African artist is Congolese photographer Baudouin Mouanda. Describing himself as a 'photographer of life', in an unflinching and nonconformist style, Badouin captures the realities of living in the Congolese capital. Seeking to provide an alternate image of African life than is normally portrayed in Western culture, yet unafraid to face the issues facing contemporary Africa, his photographic creations team with sensitivity.
His series of photographs Le Ciel de Saison deftly blends technical expertise with thematic thoughtfulness. Motivated by the brunt that Africa bears of the ever increasing effects of the climate crisis, Baudouin's series serves as a reminder to all of the need to preserve and respect the environment. Just as his photograph Ciel de saison creates the unsettling image of life continuing as normal despite encroaching natural disaster, Baudouin's words leave a chilling note in his audience's ear: "Here we do not sleep, erosions scare us. When the weather is hot, we don't know what to expect the next day."
Amadou Camara Gueye
A particular favorite amongst European and U.S art collectors is painter Amadou Camara Gueye. Having graduated from the School of Fine Arts in Dakar in 1997, Amadou has been exhibiting nationally and then internationally since 1993. Much of Amadou's work is based on autobiographical details. As a child, Amadou liked to scribble on the walls of his house with charcoal. Incorporating this freestyle into his work as an adult, Amadou often works in large formats, with charcoal, and describes himself as having "a spontaneous approach to the work to be done: the line of the drawing flows freely. Then it's all about re-balancing".
His painting, ASC Pikine, too is littered with symbolic relics of his life, friendships and past experiences. The different objects represent the different phases of life, as Amadou freezes in time the sometimes difficult, sometimes joyous transition from child to adult.
For updates on our African Art Auction, click here!