Last year, Casey McKee was the winner of our first artist residency challenge. He then spent several weeks at the Arctic Hideaway, a secluded residency in Norway. He shares with us the result of this experience and explains why he thinks this kind of initiative is essential for artists.
Some time has passed since you were at the Arctic Hideaway residency. What are your strongest memories of this stay ?
I think sitting in the sauna at night with Håvard Lund, the director of the residency, and intermittently jumping into the freezing arctic water to cool down and then returning to the sauna to warm back up. Also experiencing the northern lights for the first time in my life. My time there felt much longer than the three weeks that I was actually there. Most of my time was spent in solitude, painting or taking walks on the island. After six months I still feel the stillness and the ability to breathe differently.
Will you be up to do that again ?
Absolutely ! Actually, I'll be going back in August, but this time it's going to be a music trip. My partner and I have a band together and we are going to go for another three weeks to make an album. 
Find Casey's profile and works on SINGULART here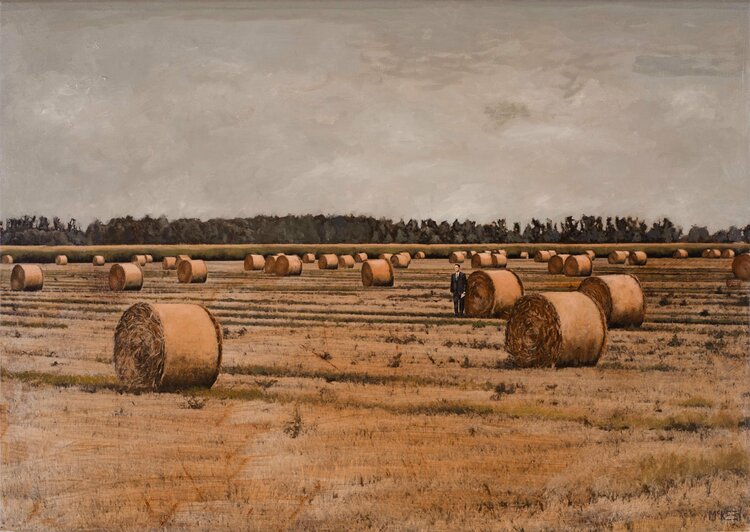 Great ! How did it come about ?
This next trip happened due to talks with the residency director, Håvard Lund, during my stay last year. He is a well-known jazz musician and I have been a musician performing in various music projects since I was very young. After sharing music with one another, we decided that we should plan some collaborative projects together and decided to have my partner and I return to make an album on the island with him. He will record and perform with us. We're hoping to work on about eight to ten songs during the three weeks. If we are unable to finish them while we are there, we will at least have a good foundation from which to work on that we can finish up in the following months.
Why do you think residencies are important for artists ?
I think they are important because of the potential to meet other creative and interesting people with whom one can share ideas and inspiration and which may also lead to future collaborations. Residencies also allow you to focus on your work in a new location without your normal, everyday distractions. The new environment give you the chance to see and think about your work in new ways.
How did the environment at the residency influence your work ?
I was really inspired by the grayed out colors of the November light combined with the overwhelmingly beautiful scenery. That color palette influenced how I painted and the setting inspired me to create more landscapes in my work.
What was your intention with the series made at the residency ?
The series consists of businessmen standing alone in vast landscapes. On one hand, they look a little lost and out of place, far from their natural habitat of offices, board rooms and water coolers. But also, they seem menacing, like they are looking at how they can exploit what they are seeing in order to make money. That's why they are jerks. Our planet is being destroyed by ambition. Those who look at the environment and think, "how can I own this? How can I cut it up and make money from it?" There is a quote by Utah Philips that goes, "The Earth is not dying-it is being killed. And the people who are killing it have names and addresses."The island archipelago where the residency is located is dealing right now with one such jerk. A wealthy Norwegian businessman is trying to buy one of the islands in order to turn it into an industrial salmon farm. This will entail two years of dynamiting the island in order to prepare it for the farm construction. After the construction is complete this quiet, pristine area will have constant industrial traffic coming in and out and will cause pollution that will have detrimental consequences to the local environment. All of the locals are fighting against this project and I sincerely hope that they are able to stop it from happening.