Masquespacio represents the combined talents of Ana and Chris – sculptors based in Spain whose works have been exhibited nationally, in France, Italy, the United States, and Japan. Together with the fusion of materials and textures, they cite color as one of their strongest points. In their pieces, Masquespacio look to the past, bringing it to the future through a renewed and contemporary vision.
We sat down with Masquespacio to discuss the world of design as well as their inspiration and creative process.
What or who are your sources of inspiration?
We have many sources of inspiration, from design itself to fashion and art, our client's stories, and most of all travel. Discovering new places and cultures is eye-opening and inspiration could spark anywhere from seeing a residential building entrance, to an ancient architectural building.
Talk me through your creative process, from the initial idea to the realisation of the product?
We always begin by consulting our clients. From there, we search for a style that matches their business model and the lifestyle of their targeted customers. Once we have approval on the aesthetic direction, we develop the project in 3D and then work on technical drawings to bring it to reality.
How do you think contemporary design and art intercept?
Both are getting closer and closer to each other. The new generation of designers is multidisciplinary and is creating pieces that meet in the middle of both worlds. Design previously started from the function it would resolve, while now it is converting into an element that creates an emotion, tells a story, or just wants to represent an important moment in time. This is all thanks to that new generation of designers that moved away from the standard and started to develop their own collections with total freedom.
What materials are the most rewarding to work with and why?
There are three materials we like and are easy to work with. The first being metal; in all its senses as it is resistant, available in almost all countries and open to a wide range of production techniques and finishes. The second is marble; not only for its beauty as a material coming from nature, but also because there is a lot of technology available to create anything you want with marble. Last but not least, we love to work with fabrics; a material that complements objects with warmth and softness and can be used to create any form.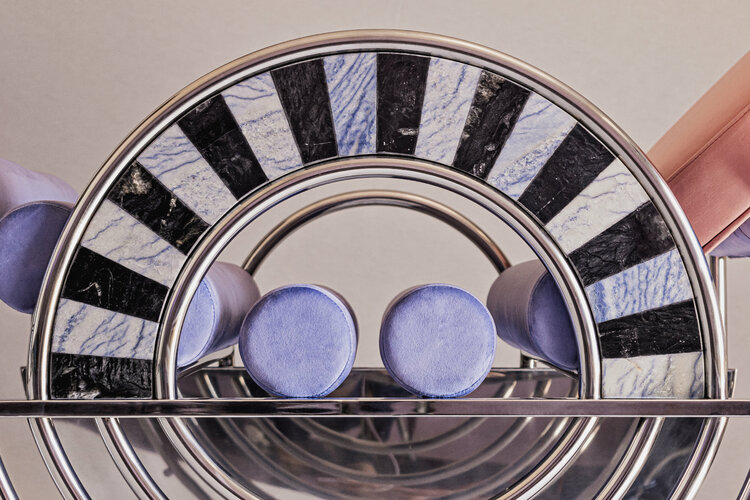 What do you consider to be your greatest challenge when it comes to the production process?
The biggest challenge is without a doubt finding the right people to produce your designs. They need to be passionate as well as open to finding new approaches to break the traditional.
In your opinion, what is the mark of a successful design piece?
A piece born from freedom of speech and passion rather than a focus on economic return.
What impact do you seek to provoke with your designs?
We are all into emotion and breaking the traditional. When somebody sees or uses a design we created we wanted them to get that WOW-factor feeling, but also give them a sense of joy.
What do you value the most in the world of functional design?
That functional design is making our life easier.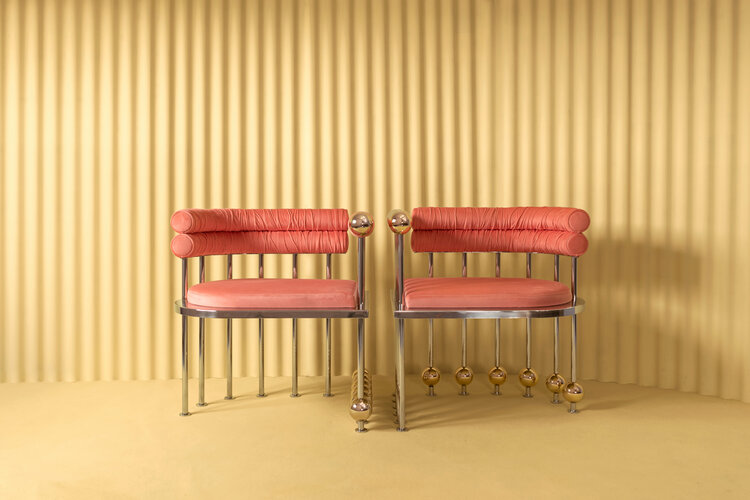 What major milestones have you crossed as a designer as of recent? How have you grown and what have you learnt?
The year is still young, although we have had some great project launches this year. We recently finished our first interior design project in Saudi Arabia, while we also recently finished a new project for Bun Burgers, this time in the ancient Brera district in Milan. We also developed some interesting co-branding collections for several brands in Europe, that will include furniture and lighting objects, but also tableware and fashion. They will see the light during the last quarter of this year and the beginning of the next year. After 12 years of working on several types of projects, we realised a few years ago that we needed our own speech. For this reason, a few years ago we started Mas Creations. Through Mas Creations we are producing interiors and products directly ourselves and for clients that are specifically in search of our universe of colors, materials and forms. It is important for us to evolve as designers and continue to experience challenges that make us want to pick up a project. This is the most relevant lesson for us.
Are there any contemporary designers you have discovered lately whose work you admire?
Daniel Arsham.
Thank you Masquespacio ! Click here to view their full SINGULART portfolio !