Jungblut Atelier, founded by Max Jungblut, is a design studio based in the Netherlands whose works have been exhibited nationally, as well as in Belgium, Italy, the United Arab Emirates, and Spain. He cites animals, nature, trees, and beautiful forms as being the central sources of inspiration for his distinctive pieces. Jungblut most often creates with wood, plastic, and textiles.
We sat down with Jungblut Atelier to discuss the world of design as well as their inspiration and creative process.
Tell me about your creative process, from the initial idea to the realisation of the product?
As a child of eight, I drew cars and motorcycles. There are traces of it in my current designs, supplemented with forms of nature and architecture. I developped trained eyes by studying animals and trees which I then combined with my childhood drawings: creating playful forms and drawing influence from each step.
How do you think contemporary design and art intercept?
In the context of my work, all my design production models start off as pieces of art. One emerges from the other and stays interconnected. Art is, like nature, the source of inspiration. Design is the extract.
What is the most important challenge in the production process?
Navigating the relationship between the shape, mould and upholstery of a design piece. I seak to create forms that can be easily detached from their mould. The inside curves are, for the upholstering team, the most difficult parts to be fixed for the long term. But after having cooperated with many companies throughout many different countries after many adjustments we found the best company among all of them in the Netherlands. They have the know-how and together we made the seemingly impossible, possible.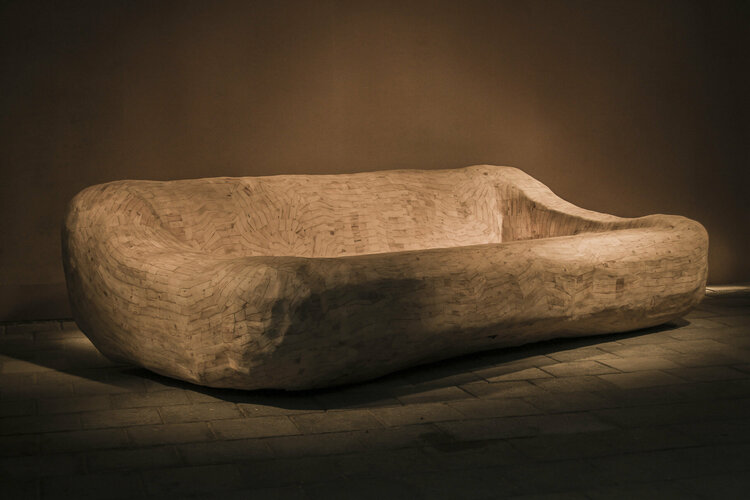 What impact do you seek to provoke with your designs?
A sustainable impact, with the re-use of materials. For the outdoor seats, we are using recycled polyethene. My outdoor seats are exclusive and will also remain for generations. If my exclusive outdoor furniture used by beach club owner, gets too many scratches or decolourises, they could get a second life as an upholstered version.
What major milestones have you crossed as a designer as of recent? How have you grown and what have you learnt?
Of course, we are always in a growing process. As a designer or creative person, this will never stop. Coming June I will be exhibiting in Milano, at TEFAF Maastricht(NL). Fairs are very important. I need financial growth to grow my potential and realise my ideas into objects, architecture, design. When I only had my prototypes and a few unique pieces I was discovered by the Dutch pavilions for Design to represent In Dubai twice in 2018 and 2019, in Milano in 2018. Also for the same in 2020. In 2016 I was at the TEFAF represented by Gana Art from Seoul by the same gallery at Art Brussels in 2018. Passenger Terminal Expo asks me every year to represent my double seats.
Are there any contemporary designers you've discovered lately whose work you admire?
Piet Hein Eek has been a great inspiration for my early works by using reclaimed wood but in contrast to his work, I use more curly forms. So Picasso, Gaudi, Kees van Dongen, Rubens, Pierre Poulin and Romantic
Architecture, and so many more have always been a source of inspiration for me.
Thank you Jungblut Atelier ! Click here to view their full SINGULART portfolio !