Cynthia Coldren sees her paintings as "intentional contrasts" – planned and organic, structured and fluid, sharp and soft. She likes to ask the "why" regarding life's chaotic and ambiguous moments and to express how seemingly incompatible elements work well together. As this became a central focus, her abstract style naturally evolved to include various media – hand-painted paper with acrylic paint, inks, and pencil – to explore the idea of connectivity through her art.
When did you know you wanted to be an artist?
I've always had a creative spirit and that led me to study art in school — ceramics, printmaking, and design. I've painted in oils, pastels, and now acrylic. While my early work was representational, I transitioned to an abstract style in the last 10 years with a strong focus on texture and composition.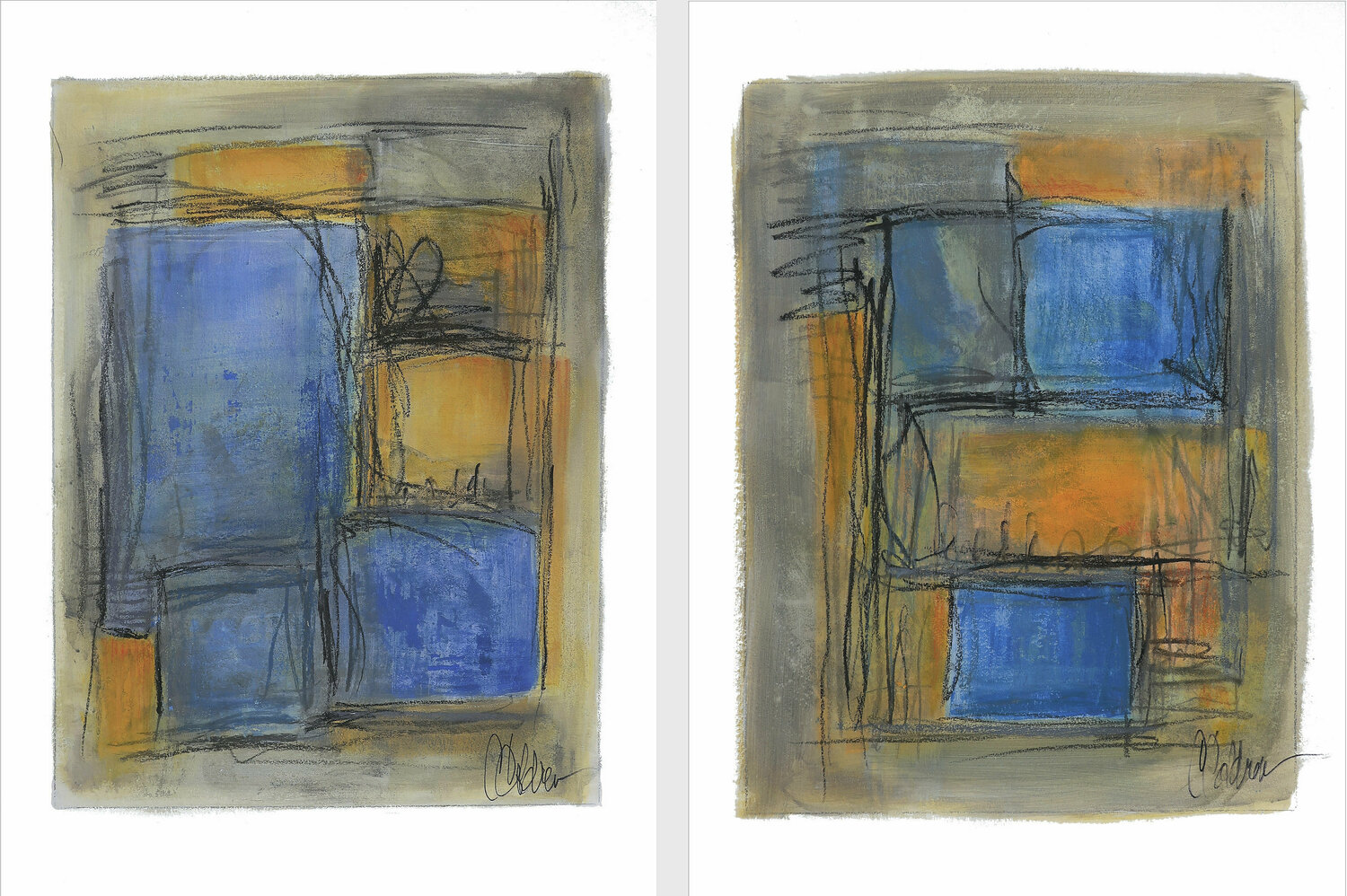 Can you talk about your artistic influences and other artists you are most inspired by?
I don't consider myself an expressionist, yet the work of Joan Mitchell is incredibly inspirational and vibrant. I am a huge fan of Mark Bradford, I like his innovative use of collage fragments and his monumental storytelling. I find the works of Jack Whitten and Mark Tobey stimulating in their repetition, texture, and structure, and Cy Twombly is just extraordinary. I am also intrigued by many contemporary artists like ceramicist Melanie Ferguson and painter Lillian Garcia-Roig.
Do you prefer to work alone or collaborate with others?
For me, the thinking, visualization, and experimentation that takes place in the creation of art is a solitary and absorbing path. I do connect with other artists, however, in the sharing of ideas, learnings, successes, and setbacks. It's a positive and supportive experience.
You've said that your paintings are "intentional contrasts." What do you mean by this?
The topics I choose to explore are more personal and introspective. Like most people, I'm a bundle of contradictions and disconnects. So my art is influenced by how I navigate and think about these ambiguities and the daily chaos I experience. This is why I've come to embrace my paintings as "intentional contrasts." They are layers of deliberate shapes, spontaneous brushstrokes, and paper elements that express a joining of opposites. I think that visualizing the strong links that exist among disconnected things really speaks to the diverse world we live in. We can embrace our differences and create something unique and beautiful.
Can you tell us about a project you're currently working on?
I create art for several series all at once. It forces me to think differently and test the boundaries of each subject. My Earth Abstracts is a compelling landscape series that I think will continue for a long time. I recently started the Elementals series, pure abstract elements positioned on a super-white background. I like the structural, clean appearance of bright white paper or canvas — the creative marks, paper fragments, and synchronizing colors are intensified by the crisp whiteness. The resulting mixed media paintings celebrate the simplicity and intrigue of abstract art.
What do you think you would you be doing if you weren't an artist?
Creativity would be at the heart of the profession, and problem-solving, which is a type of creativity. I am also a professional writer, so that would be in the mix. So perhaps a travel writer, or an edgy, humorous, and slightly snarky opinion writer (and critic) of the world as I see it. There's plenty of fuel for that engine!
Have you found any other artists on Singulart whose work you admire?
I admire and get inspiration from artists in a variety of genres — sculpture, textiles, and painting. I like abstract structure and texture and so enjoy artists who have used these elements well — Niki Hare, Mbaye Babacar Diouf, Ron Pillar, Ludovic Mercher, and Karina Antonczak.
What advice could you give to young artists starting out?
I could say a lot of things about being true to your vision and believing in yourself, but that's all been said. The best advice I can give is much more pragmatic — and not about creating art. It's this: If you want to be a successful artist, define what "success" means to you. If it has anything to do with selling art and making money, learn what it takes to run a business. The sooner you come to terms with this aspect of your art journey and career, the sooner you can take the long-term steps necessary to achieve the outcomes you want.

For more artworks of Cynthia Coldren, visit her Singulart page here.